Your Credit Union Goes Where You Go
The new MEMCU Mobile experience will give you more options and access to manage your accounts from your mobile device, and you get the same features that the online banking service provides. Download MEMCU Mobile Today
Android Users- Download MEMCU Mobile Here: Click Here to Download.
iPhone Users - Download MEMCU Search for MEMCU Mobile in the App Store. Please Note that MCU Pay is not the correct app. We are working to remove this app. Be sure to download MEMCU Mobile from Apple App Store.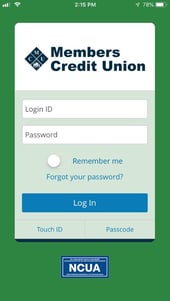 MEMCU Mobile Benefits
Manage all of your Members CU membership accounts under one single login ID. No more keeping up with different login credentials to see all of your accounts.
Transfer Money to and from all of your accounts online.
Transfer funds to other Members CU members online with Member to Member Transfer.
Send Money, using your MCU Visa Debit Card, to anyone using our Person to Person (P2P) payment feature.
Send Messages and documents to Members CU securely in secured messages.
Set up account alerts and reminders to stay organized.
Out of band authentication so you can get logged in even if you forget your password.
Pay bills with eBill.
Touch ID and passcode login available for phones with this capability.