You Deserve a Better Experience
You deserve a better user experience that lets you manage all of your accounts in one place with a seamless experience from your desktop computer, tablet or mobile phone.

You Only Need to Keep Up with One Username and Password:
We're putting all of your accounts in one place for you to manage. If you have more than one membership here at Members CU, you won't need a separate login for each membership. You can log in with your username and password to manage every account that you have primary tax owner, joint owner, co-signer, or co-borrower rights. Members with only joint relationships or co-ownership to accounts can have their own username and password and see their accounts as well. There is no need to share your username and password with family members who are joint on your primary accounts.
New users will enroll using your last name, social security, date of birth and zip code. You will be asked to create a unique login ID. Make sure MCU has your up-to-date phone number, mobile number and email address on file, so that you can retrieve your secure access code and get logged in to MEMCU. Once you enter in your one tim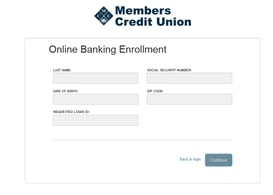 e secure access code, you will be asked to accept a first-time user disclaimer and create a secure password.
Pay Bills on MEMCU Online Banking and MEMCU mobile
Bill Pay is accessible from within MEMCU Online and MEMCU Mobile. Since you login into online banking securely you won't need a separate set of login credentials to access your Bill Pay. To enroll, you will need to have a checking account to pay bills from.
Want to Log In Using a Mobile App?
Search for MEMCU Mobile from your iPhone App Store or the Google Play Store on your Android. Download the free app. When you log on to MEMCU mobile you can do more than just view account and transfer money. Everything you do on MEMCU Online can be done in the mobile app.
MEMCU Online Banking and MEMCU Mobile will give you the ability to:
Move Money, Make Payments and Send Money 24/7:
Funds Transfer: Transfer Funds to the accounts where you need them most. You can transfer between your primary and joint accounts online in real time. *
Member to Member (M2M): transfer money to other Members CU members from any of your deposit accounts in real-time.
Make a Payment: Make a payment on your Members CU loan online. **
Pay Bills: Pay Bills to other companies online with eBill. Utility bills, credit card bills, mortgage and more can be paid all from one service.
Get Account Information 24/7:
Text Banking: Enroll In text banking and text requests to Members CU to get an updated balance sent to your phone immediately via text message. You can transfer funds through text banking as well.
Set-up Account Alerts: Want to know when your payroll check has deposited or a check you wrote cleared. Set up an alert in Online or Mobile Banking.
*You must have withdrawal rights to transfer money from an account.
**Payment must be transferred from existing MCU deposit account.